Know Thy Helmet : Bell MX & Moto Series Helmets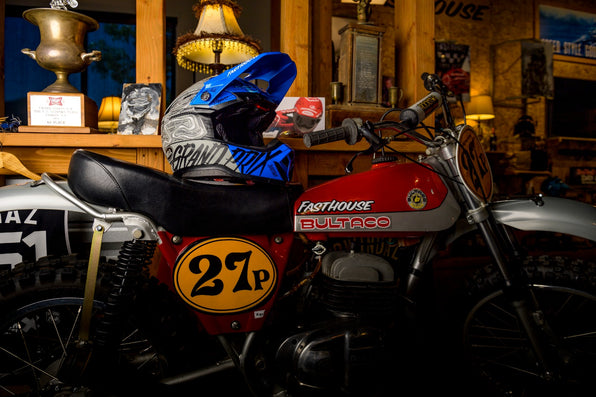 When it comes to riding motorcycles, safety is paramount. And at the heart of motorcycle safety lies the helmet. Bell, a respected name in the world of motorsports, offers a range of helmets designed to meet the needs of riders, from off-road adventurers to street cruisers. In this article, we'll explore the Bell MX and Moto Series helmets, breaking down their features and uses in simple terms so that you can make an informed choice.
Bell MX Series Helmets :The Off- Road Champions, Motocross Hero.
The off-road world is a dirty, tough place. Chunks of rock and dirt mean business when launched by roosting tires, and even when it's muddy, hitting the ground is always hard. That's why Bell has loaded the MX-9 with a tough polycarbonate shell, Mips energy management system, an adjustable peak-visor, Velocity Flow ventilation, and a removable, washable, anti-microbial liner for when the time comes to hose down. The MX-9 Mips packs all these features into one helmet, delivering exceptional value and pro-caliber performance.Among the popular models are the MX-9 and MX-9 Adventure series helmets. These helmets are your best bet if you love the thrill of off-road riding, such as motocross, dirt biking, or hitting the trails. Plus, they're designed to work seamlessly with goggles, ensuring a snug fit and clear vision while navigating challenging terrains. Check out the MX- Goggles by Rydeout.  
Bell MX-9 Adventure MIPS: An All-Terrain Explorer.
With the MX-9 Adventure Mips, pavement is optional. This go-anywhere helmet gives you the best of both dirt and street. It's designed to adapt to your version of adventure.From the roughest singletrack to urban blacktop, the MX-9 Adventure Mips gets you there safely in style. Bell has  taken the MX-9 and added even more capability with an integrated anti-fog, anti-scratch clear faceshield. The shield flips up and leaves enough room for goggles in extreme conditions, or it can be removed completely. Conversely, the adjustable visor can be removed for a stealth street look. Mips protection, Velocity Flow ventilation, and a removable, washable, anti-microbial liner round out a highly adaptable package
Bell Moto Series Helmets: The Versatile Riders Choice
The Bell Moto Series includes various models like the Moto-9, and Moto-10, catering to different riding styles such as motocross, enduro, and adventure touring. These helmets are the go-to choice for riders who appreciate a versatile helmet that's suitable for both off-road and on-road adventures. They offer a blend of style, comfort, and safety. Moto Series helmets has the advanced safety features like MIPS (Multi-Directional Impact Protection System), which enhances protection against rotational forces during impacts. These helmets also feature advanced ventilation systems, keeping you comfortable and cool even on long rides. Moto Series helmets often sport aerodynamic designs, reducing wind resistance and noise for a smoother ride. They are usually equipped with emergency release cheek pads for quick and safe removal in case of an accident.
Moto-9 MIPS:
The legendary Moto-9 continues to dominate MX tracks around the globe. Bell have added Mips energy-absorbing technology to this proven performer, enhancing already stellar protection. An extensive list of features - Tri-Matrix Shell, Velocity Flow Ventilation, X-Static Liner, Flying Bridge Visor, Magnetic Cheekpads/Strap Keeper, and an Industry-leading five-year warranty - ensures the Moto-9 is as ready as you are when the gate drops.
Moto-9S Flex:
Back by popular demand is the redesigned Moto-9S Flex — the refinement of a long-standing industry leader. This strong, lightweight helmet carries over Bell's time-tested traditions of performance and advanced safety standards. Packed inside are three material layers that help protect at different impact speeds and redirect rotation energy in many impacts. You still get the unbeatable ventilation of the flexible, segmented liner that adapts to the shape of your head for a custom feel. Top off this no-compromise design with our Tri-Matrix shell, delivering all the strength of carbon fiber in a more budget-friendly package for value that's unheard of.
Moto-10 Spherical:
As leaders in head protection, one thing has stayed the same since Bell has developed the first full-face motocross helmet in 1975. Bell have never ceased to break their own boundaries. Thriving on the progression of helmet development, they were determined not to follow trends, but create leading solutions that keep riders performing at their best. Meet the Moto-10 Spherical — the evolution of the Bell Moto series. Born from the needs of top athletes around the world like Eli Tomac, the Moto-10 is Bell's most advanced off-road helmet that sets a new industry standard. As a direct result of the athletes' influence and feedback, the Moto-10 achieves a winning combination of increased protection, weight reduction, and extreme airflow, enhancing the rider's experience and confidence. As racing evolves, so did Bell. Combining the new technologies with the favored Bell fit and aggressive styling, and the Moto-10 not only emerges as the front-runner — it becomes the evolution of full-face protection.