Know Thy Helmet: MT Thunder 4 SV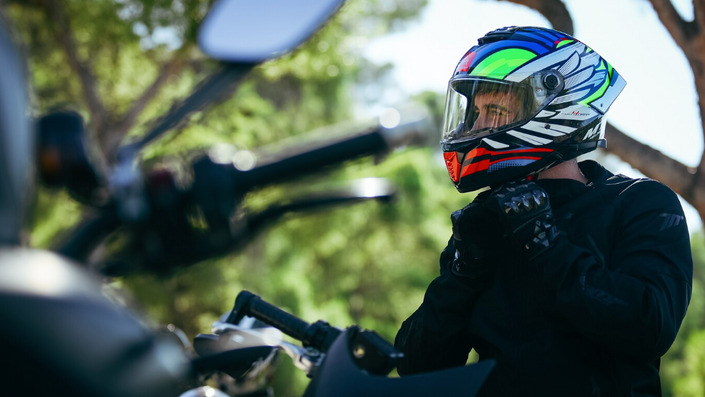 A helmet is the most crucial piece of riding gear as it protects your head. And that is why there are  testing agencies around the world that provide safety ratings for helmets, telling us how safe a helmet is. Now, it is not important to get into what exactly these standards are but the general rule of thumb is, the higher a rating, the better a helmet will help absorb the impact of a crash and keep your head safe. Now, for all helmets sold in Europe and some other countries as well, the ECE rating is the primary force of reckoning. They all have to abide by this rating, and up until 2022, that rating was ECE 22.05. Then, ECE 22.06 kicked in and changed everything.
Basically, ECE 22.05 came into effect in 1996 and that means that the thresholds set at the time could easily be uprated in today's day and age with the advancement in technology. Expensive helmet manufacturers in fact complied with the latest norms even before they came out, however, for budget helmet makers like MT to do it, it's truly impressive.
The MT Thunder 4 SV is one of the best modern day budget helmets because it complies with the latest ECE 22.06 safety rating for helmets. The newer ratings account for crashes that not only occur at higher speeds, but lower speeds as well. The newer rating also accounts for the spin that can be induced on impact, which is crucial in aiding rider safety. Not just that, the number of variants of a helmet tested have also increased, and therefore, if the same helmet shell will be used to accommodate different head sizes by using different foams, a minimum of 55 tests are done on the helmet to make it ECE 22.06 compliant. If the number of shell sizes goes up to 3, then the number of tests increase to 135! You get the idea - all helmets are tested in as many scenarios as possible for better safety.
So we have cleared that the MT Thunder 4 SV is a safe helmet. It's comfortable too as MT offers in two sizes, that can further be adapted to the rider's head using cheek pads. Apart from the usual ventilation, the fabric that MT uses inside the helmet is also air permeable meaning that air can flow through it. This makes it quite comfortable on long sunny days when temperatures soar. In fact, even the exterior is made of special polymers that are fire retardant.
The visor uses anti-scratch technology and the visor hole has been positioned in such a way that a rider gets access to the full 100 percent field of vision from inside the helmet. And last, but not the least, the MT Thunder 4 SV is available in a host of paint schemes which makes them quite unique. So, even if a lot of people end up buying the Thunder 4 SV because of its popularity, it is still unique enough that you won't run into someone owning the same design all that often!