Know Thy Helmet – Valentino Rossi Shark Helmet (Misano 2015)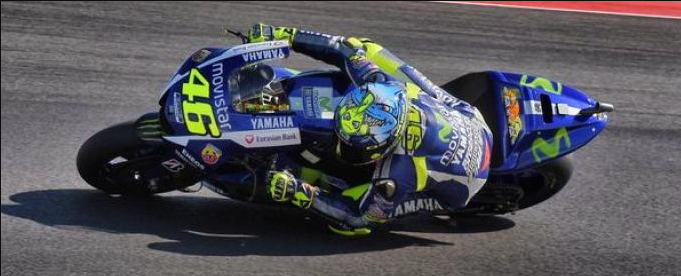 Valentino Rossi's helmet designs have always been special as they always told a story about the fabled rider, and his Shark Helmet from Misano in 2015 ranks right up there in terms of drama and stories. Just to start off with some context, Valentino Rossi had come to Misano on the back of win at the Silverstone GP. While that might be the case, he had not bee able to secure the top step of the podium in the three races preceding that, and seen his lead dwindle with Jorge Lorenze and the ever-fast Marc Marquez all gunning for him. Lastly, the Misano race is also dubbed as Valentino Rossi's home race as his home town of Tavullia in Italy is just up the road from the Misano World Circuit.
Coming to the design of the helmet, it was designed by Aldo Drudi. It featured a tiny yellow fish on the front with number 46 on it and it was being chased by a big blue shark. The tiny yellow fish was supposed to be Valentino Rossi who was trying to run away and secure a world championship and the big blue shark were his competitors such as Jorge Lorenzo and Marc Marquez who were trying to reel him. There was no number given to the shark as it didn't correspond to any one of Valentino's rivals, but was instead meant to symbolise the whole group of riders who were looking to usurp him from the top spot in the championship rankings. Valentino himself was found saying that because Misano was his home race and everyone wanted to beat him, the fish symbolised a determined Rossi trying to get away from his competitors.
The race in itself was quite an interesting one as rain started to fall, while the riders were still standing on the grid. It was termed a wet race as early as the second lap of the race, and all three of the championship protagonists (Rossi, Lorenze and Marquez) quickly switched to wet tyres. The track then started to dry out and Marques was the first one to switch back. Lorenzo did so a lap later and Rossi did so too, but with only seven laps remaining. Ultimately, Lorenzo crashed out of the race. Bradley Smith and Scott Redding, two riders who were the first to change back to slicks reaped the reward as they finished second and third, behind Marc Marquez. Rossi finished fifth, but overall, it was a good race for him as his closest championship rival did not finish the race.
As for those of you trying to don Rossi's Misano look, you can pick out the AGV K3 SV Rossi Misano 2015 helmet as it sports the same livery. The helmet in itself is available in two exterior sizes along with 4 EPS sizes (internal size). You have four forward vents to let in air and two vents at the rear to pull air out, all of which was optimised in a wind tunnel to get the best air flow. Ultimately, the Valentino Rossi Shark helmet from Misano in 2015 is one of the most sought after helmets worn by Valentino Rossi, as it was a at a time when Rossi was still at his peak while competing with fellow riders of the same level.