Know Thy Helmet: Shark Race-R Pro GP: Zarco Chakra Replica Helmet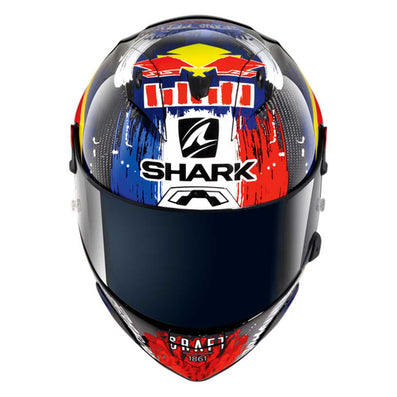 Being the fastest on the racing grid often means having an advantage over others. One such advantage can be earned by cutting through the air as quickly as possible. This plays a great role in reaching top speeds on the long straights in Moto GP, and helmet manufacturer Shark had the same idea in their mind when they were developing the Race-R Pro GP helmet for racing at the highest level.
One of the riders who uses this helmet on the Moto GP racing grid is Johan Zarco. This helmet helped him reached a top speed of 362.4 km/k at the 2021 Qatar GP, which is the all time top speed record in Moto GP. This was achievable as the Shark Race-R Pro has been developed in a wind tunnel, along with computerised simulations, all of which gave it a slippery edge which allows wind to just skate over it creating very less drag. One of the reasons as the why the Shark Race-R Pro GP helmet is so good is because of the spoiler at the back, which smoothens the flow of air over it.
In fact, the Moto GP riders that use Shark helmets are also a vital part in the development of these helmets, such as the Shark Race-R Pro GP. Apart from cutting through air like a hot knife through butter, the Shark Race-R Pro GP helmet is also quite stable at high speeds, and the buffeting effect is completely out of the picture.
As far as its construction goes, it is available in two shell sizes to fit riders with different head-sizes. The shell of the helmet is made using COVA (Carbon ON View and Aramid) structure, which ensures that it is lightweight in its construction but is structurally rigid at the same time. The multi density EPS goes onto further cement its safety credentials.
The visor on the helmet has been classified as Optical Class 1 which means that the light passing through it doesn't bend to create illusions. It also doesn't attract fogging or scratches. But, most importantly, the visor has an ergonomic grip and a quick release system so that the face shield can be changed in an instant.
If you want similar performance, you can check out the Shark Race-R Pro GP: Zarco Chakra Replica helmet on our store which offers all the benefits listed above, and comes finished in the Moto GP livery employed by Johan Zarco on his helmet, which lends an extra bit of that cool factor the
helmet's design
.