A Guide to Riding in Hot Weather or Peak Summer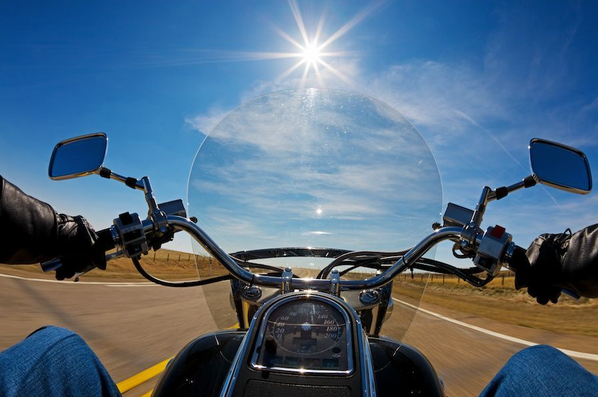 Summer will soon be upon us with all its might and riding during this period of time is generally not advisable. However, there will be plenty of enthusiasts who will want to spend time on two wheels during the hot months of the year as well, so, here is a guide on how you can ride in hot weather or peak summer while still staying healthy.
Avoid the hottest time of the day
The hottest time of the day in most places ranges from 11 AM to 3 PM. During this time, the sun is either bang one top or close to it, and your surroundings are also hot. This can lead to your body quickly reaching its exhaustion limit. Therefore, we recommend that you plan your ride around this time, or schedule your mid-way break between this time period. Doing so will hugely decrease the amount of exhaustion you face and will allow your body to recover that much more easily.
Keep your gear on
When riding in the summer sun, a lot of riders end up taking their riding gear off to feel cooler. While this might have a mental effect, it is actually more degrading for your health. First of all, your skin should never be directly exposed to the skin as it burns it, and accelerates dehydration. More importantly, riding without your gear on means you are willing to take chances in case of an accident, and you are bound to make an error when you are hot and exhausted. You should instead look at mesh riding gear, that protects you in case of crash, protects your skin, and provides ventilation at the same time. Make sure that your helmet too has vents so that air can flow from front to back providing a cooling sensation.
Hydrate often
You should be stopping more often than you do in the winter months to stop and hydrate. This will not only keep you fresh, but it will also stop your body from nearing dehydration. The closer your body gets to its dehydration limit, the more you feel the effects of dehydration. An ideal way to stay hydrated is by using the Kreiga hydration bag. This will allow you to stop less often, but you should still stop frequently to avoid exhaustion.
Proper eyewear to protect from UV rays
UV rays are harmful for your eyes, so, if you ride around with a clear visor, we recommend you switch to a tinted one for riding during the day. You can alternatively also wear sunshades underneath your helmet and continue to use your regular see-through visor. For those of you that use a motocross helmet, make sure you invest in a pair of goggles as well for this very purpose.
Difference between heat exhaustion and heat stroke
Both heat exhaustion and heat stroke are bad, but the latter is obviously worse. When you are riding in hot weather, you can encounter heat exhaustion. The general effects are over-sweating, muscle weakness, nausea, vomiting and you can even faint. If you start feeling heat exhaustion, STOP. There is no point in pushing your body further, as it will only lead towards a heat stroke. A heat stroke is when the core temperature of your body is beyond a 103 degree Fahrenheit. You will feel confused, there will be a sudden feeling of cold chills, and your heart will begin racing, A heat stroke is a big emergency, and if you think you might be feeling its effects, it's imperative that you seek medical help immediately.
After reaching home
There are things you can do once your ride is over to help your body recover quicker. Hydration will be key and take on plenty of liquids to replenish the ones you lost on the ride. The second thing that many people might not be aware of is a cold shower. It will help bring down the temperature of your body, and relax your internal organs. Get a good night's sleep and in no time you will be ready again for your next ride.