Know Thy Helmet: SHARK Race-R Pro Lorenzo Winter Test Helmet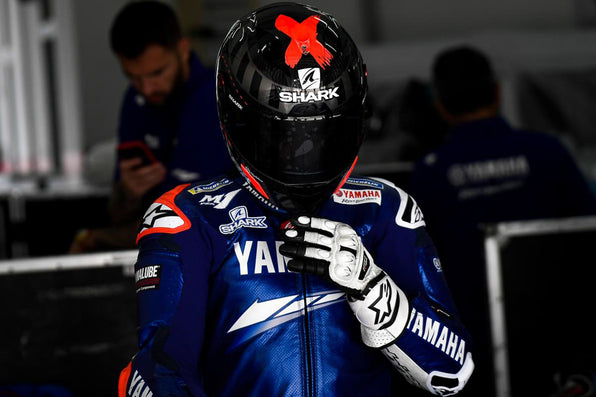 There are often riders that can help shape the course of companies and one such pairing was that of Jorge Lorenzo and Shark. At his peak, Lorenzo was capable of beating any rider on his day and this is easily decipherable from his Moto GP championships. The other end to this story is that of Shark. It's a helmet manufacturer that designs its helmets keeping in mind the inputs of riders, which was Jorge Lorenzo in this case. For those of you who are not new in the Moto GP world, you will be aware that helmet trouble has been a pain point for Lorenzo at one point of time in his career, and that's why this partnership is quite instrumental.
The testament to Shark's success is that many riders on the grid use their helmet, and that's for one very good reason. When Lorenzo and Shark got together to make the Race-R Pro helmet, they wanted to make a helmet that could cut through air like butter at Moto GP top speeds while maintaining excellent stability for the rider's head. This is evident in the fact that the Johan Zarco's top speed record in Moto GP of 362.4 km/h was set while he was wearing this exact helmet in the Qatar 2021 GP.
When it comes to design, this is on of the more simpler designs that have been worn by Moto GP riders, and we all know that these riders love the drama that comes with out of the world helmet designs. In the case of the Shark Race-R Pro, the base colour is black and you get big 'SHARK' branding on the base of the helmet on both sides. It also sits proudly above the visor as well. There is a bit of red thrown in to contrast the design, but the real key or attraction here is the spoiler at the back. Once a Moto GP rider is going full blast down a straight and is tucked into the crouch position for maximum aerodynamic efficiency, it is then that this spoiler comes into play. It smoothens the air flow at the back of the helmet increasing overall efficiency and stability. When a rider is at speeds above 350 km/h, this becomes really important.
The spoiler is however not the best choice when it comes to protection in the event of a crash. So, it is designed to break off from the helmet in the even of one, so as to mitigate the risk of secondary impacts. This helps it meet the stringent criteria that the FIM has for helmets worn by Moto GP and other riders in different classes of competition. To give it the ultimate praise, Shark has overseen more than than 250 rider victories in the highest class of motorcycle racing, which is no small feat!