Motorcycle Gear 101 – Beginner's Guide to Riding Gear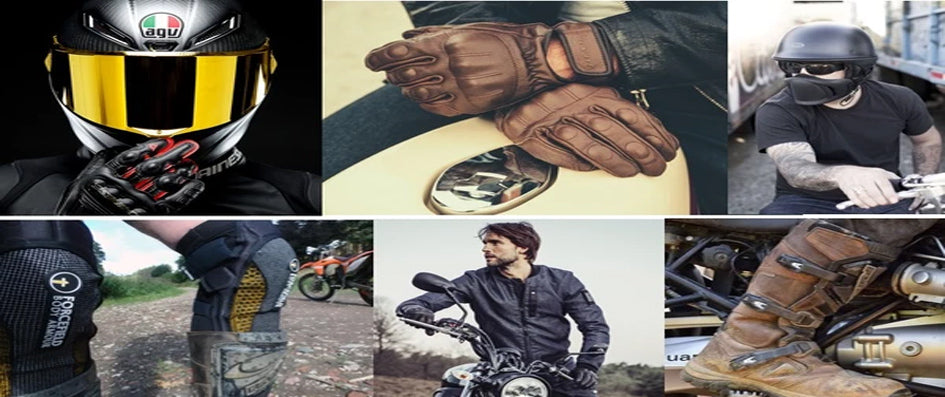 Riding a motorcycle is all fun and joy, but how do we stay safe in the event of a crash? Take a look at the essential pieces of riding gear you should be wearing before getting in the saddle.
Motorcycle riding gear is designed to cover your body when riding a motorcycle, to help protect it against external factors and most of all in the event of a crash. Here we have put together a list of motorcycle gear, that will have you covered from head to toe before getting in the saddle.
Helmet - A helmet is a crucial piece of riding gear for safety on the road. While the passive function of a helmet is to protect your head during mishaps, the helmet is also an active safety device. It shields your face from weathering elements such as wind, dust and bugs while riding. Motorcycle helmets come in different shapes, sizes and styles. Reputed manufacturers like Bell and AGV have developed standard processes to help you select the right fit for your head.
Gloves - The next piece of riding gear is designed to protect your hands in the event of a crash. But, just like a helmet, riding gloves also protect your hands from weather elements and the climate outside. Another benefit of having high-quality riding gloves is that they increase your grip, compared to riding with bare hands. Rev'it! is an international brand that makes riding gloves, among other things, which are easily accessible in India.
Boots - Motorcycle riding boots are a different breed of footwear altogether. Boots are among the sturdiest pieces of motorcycle riding gear. They are designed to take the worst of abuse, keep you shielded from elements like water and protect your feet in the event of a crash. Courtesy of sturdy riding boots, riders can escape without any injury to their foot in case of most accidents. Forma and Rev'it! boots are known for their high-quality construction and ease in everyday use. They are designed to stop your foot from twisting at weird angles, which is done by reinforcing the areas that cover the toe, ankle and shin of your leg. 
Riding jacket - Riding jackets keep your chest, abdomen and arms safe in the event of a crash. These jackets come fitted with Kevlar inserts that reduce the impact to sensitive parts of the human body, such as joints, chest and back. Riding jackets are of different kinds, and you should buy one depending on where you will be riding predominantly. Rev'it! offers a great selection of riding jackets for all kinds of weather conditions. For example, when you are riding in hot or humid conditions, a mesh jacket is the ideal choice, as it maintains ventilation in addition to offering crash protection.
Riding Pants: Like regular pants; riding pants also cover your legs, but with one added feature. They are heavily padded and also come with Kevlar inserts to help protect the rider's legs in case of an accident. The knees and pelvic area feature heavy protection. Riding pants are also of different kinds and should be chosen depending on the climate one will be riding in. Mesh pants are better suited for riders who ride in hot and humid weather. Check out pants from Rev'it! as they are designed for maximum safety, easy to use every day and economical on your wallet.
Bonus - Well now that you are covered from head to toe, there is no harm in reinforcing certain parts of the body with better Protection. Rev'it! and Forcefield make CE level 1 and 2 body armour that can be integrated into your riding gear, or worn over it. Body armour works to reinforce protection to sensitive areas such as the chest, back and knees, and it does so without hampering the natural movement of your body when riding a motorcycle.
Body armours, full body armor, helmets, motorcycle body armor, motorcycle body armor protection, Motorcycle boots, Motorcycle Gear, Motorcycle helmets, Motorcycle riding boots, Motorcycle riding gear, motorcycle Riding jackets, motorcycle Riding Pants, riding gear, riding gloves, Riding jackets, Riding Pants