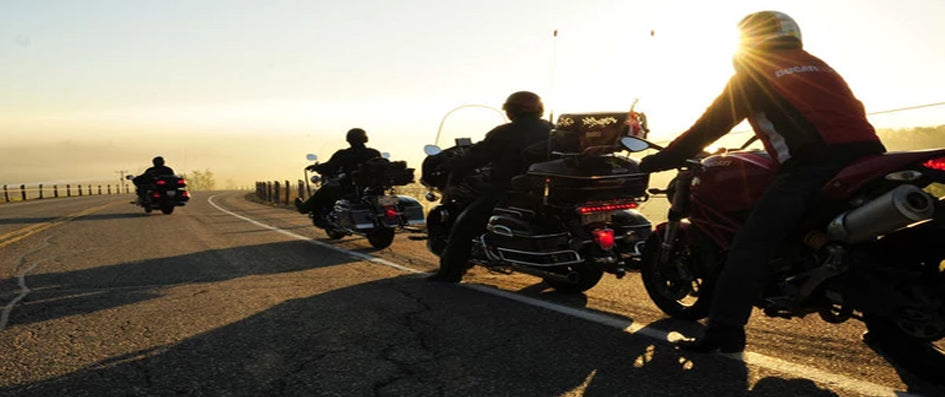 How to tackle the heat when riding in hot weather conditions?
One of the biggest challenges when riding in hot weather is taking care of your body. Riding in hot weather can sap energy from your body and leave you feeling dehydrated. It means you will get tired faster than usual, which is not good when you are riding a bike. Here are a few tips that will help you stay cool and conserve energy when riding in hot weather conditions.
Stay Hydrated: Now this one is obvious, but you will be surprised at the number of people who get it wrong. Many people drink less water as they don't want to stop often to relieve themselves. It's not a good habit though, and you will end up taxing your body even more. One of the easiest ways of staying hydrated on a motorcycle is using a hydration pack. These can often fit into your riding jacket and have a hose that stays on your shoulder, allowing you to hydrate on the go.
Stay Away from Diuretics: While one may argue that soft drinks and coffee are all made up of water, but the reality is they are diuretics. It means that you need more restroom breaks to expel the water from your body. So, stay away from caffeinated beverages or ones loaded with sugar, as much as you can while riding long distance.
Wear a Body Liner: Wearing extra clothing might seem counterintuitive in hot weather, but a breathable liner will work wonders to cool down your body. How does it work? Well, the liner becomes wet with your sweat, and as air passes over your body, it acts as a natural source of cooling. However, it only works when you are on the move, so make sure you wear it when riding over long stretches.
Use Ventilated Riding Gear: Ventilated helmets, jackets and gloves will also keep you cool when riding long distance in hot weather. Rev'it! Mesh jackets and Rev'it! Mesh gloves are great for riding in the heat. Their mesh construction allows air to move freely through them when riding. Ventilated riding gear coupled with a body liner is an ideal combination for hot weather riding. Motorcycle helmets also feature ventilation to keep the rider's head cool. Bell Race Star series and the AGV K5 series are great examples of helmets that come with superior ventilation.
Cooling Vest: If all these don't do it for you, Rev'it! Cooling Vest helps regulate the temperature of the rider's body by with liquid cooling. It is most helpful on those longer rides in the desert when you have to spend long hours in the saddle. The cooling vest is available in different sizes and can easily fit under your riding jacket.
Browse premium motorcycle gear for hot weather riding and more now, at www.motofever.com.