What Kind of Gear Works on a Dirt/Motocross Bike?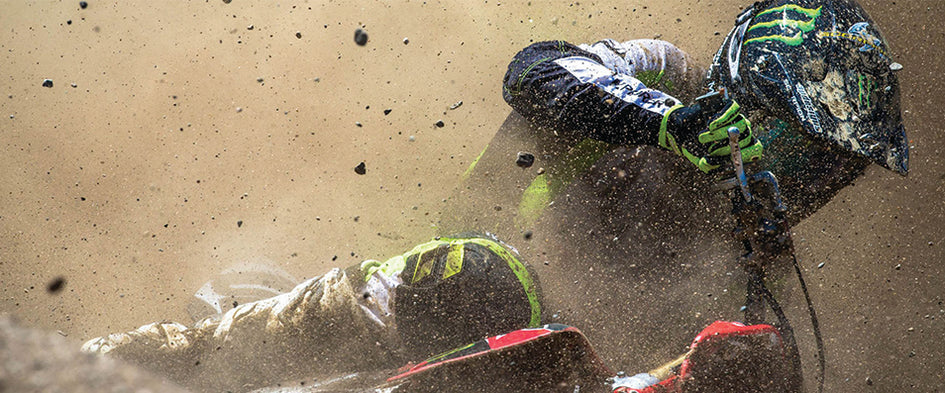 Going off-road on a motorcycle? Well, here's how you can stay protected.
Wearing motorcycle gear every time you get into the saddle is a must. It protects you from crashes and weathering elements. But what happens when a rider's playground changes from tarmac to dirt? Their riding gear has to change as well. Manufacturers make specially designed products for off-roading that better serve a rider when going off the tarmac. In case of off-road riding gear, the focus of the manufacturer changes from giving better abrasion protection to providing better mobility and impact protection.
Helmet: Now the basic equipment doesn't change, but the design and purpose of the helmet do. When going off-road, a rider exerts their body more than they would while riding on tarmac, as they are mostly standing up and moving about on the bike. Thus, they expend more energy and to generate energy; the body requires oxygen. Off-road helmets are designed with a massive opening in the front to channel more air inside. A large visor on the top deflects roost from the rider in front and shades the rider's eyes from the sun. The Bell MX-9 Adventure MIPS and Bell Moto 9 MIPS are great options for those looking to invest in an off-road helmet.
Motocross Goggles: An off-road helmet is usually paired with motocross goggles. The goggles protect the face, without hindering the oxygen flow inside the helmet. As you go up in the price range, the motocross goggles keep offering more and more features. For example, goggles used by riders in the famous Dakar Rally can cut out the glare from the sun and tone down the excessive lighting around the rider.
Jersey and Pants: Riding jackets and pants for road-riding use heavy-duty construction that will save the rider from abrasion in case of a crash. Off-road riding gear is the opposite. Riding jerseys and pants are usually made from synthetic fabrics and don't offer much in the form of protection, because off the road, the preference is mobility rather than protection. That's not saying that you are left without protection entirely. Contact patches on the pants are ideally reinforced with leather to provide a better grip on the motorcycle.
Body Armour: Protection while riding off-road comes in the form of elbow and knee guards. These pieces snap onto your joints with extreme precision and protect them from impacts. As you start moving up the price range, the flexibility they offer also starts to become better. Forcefield Pro Tube 2 is an excellent choice for protecting your knees and elbows, while Forcefield Pro Shirt XV2 and Forcefield Freelite offer protection for your back. Forcefield Pro Shirt VX2 offers chest, back, arm and shoulder protection in one integrated solution.
Roost Deflector: Primarily, the roost deflector is a protective gear for your torso. A roost deflector can fit above your jersey or below it and saves you from roost headed your way, from the motorcycles in front. They stop twigs, dirt and rocks from directly hitting your chest or abdomen. On a trail, they also protect you from branches that might be in your way.
Boots: While the construction of boots hardly changes when going from the road section to the off-road segment, it does become more rigid. The tips of the boot are reinforced with steel, as evident in Forma Terrain Evo Boots. Off-road riding boots are one piece of riding gear that is designed to favour protection over mobility. Forma Predator 2.0 boots are a great example of this. The sole of the boots also changes, depending upon the application. In trail riding, soles with a tyre tread-like pattern are preferred to give more traction to the rider while pushing the bike. In dirt bike racing, smooth soles are preferred so that the rider's foot doesn't catch on to a rut and yank him off the bike. Forma Terrain TX Boots offer incredible protection for motocross riders.