Motorcycle Luggage: Done Right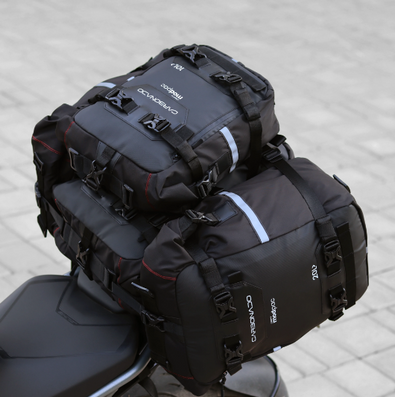 Have you ever wondered exactly what it means to ride a motorcycle?  The most common answer to this question is 'Freedom', and in more ways than one, that is the correct answer. That, however, doesn't mean you are free from all your worries, when, you head out for a ride. The most common worry among riders is that of carrying things, or simply, how to carry their luggage on a motorcycle? Brands like Rev'it! and Carbonado have worked extensively to solve this problem. Here's how:
Rev'it! Backpacks and Hydrabag
Rev'it! makes a bunch of backpacks in different sizes. They are waterproof, feature a roll-top construction, and have a chest and waist strap to transfer load from your back to your upper-body. Rev'it! backpacks are built for carrying anything and everything, and can be had in 9, 15, 18 and 22 litres sizes. They all come with an added pocket for the Rev'it! Kriega Hydrabag which can store in 3.75 litres of liquid. The Hydrabag makes the Rev'it! combo a must-have for those who often ride under the hot summer sun. As far as sizes go, you can pick one that suits your requirements, or you can even get two different sizes, where one works for shorter rides and the other works for longer rides, and the Hydrabag can be used with both.
Carbonado Tank/Saddle Bags and Backpacks
Carbonado makes a bunch of stuff depending on who you are and what you want. Firstly, there is the Drift Tank Bag that is available in a couple of sizes. It has a leather base, magnetic mounting points (can be mounted using straps also), a rain liner, water-resistant zippers for outer pockets, and a see-through compartment with finger-touch capabilities for navigation via smartphone. Plus, it can be converted into a backpack as well. The Drift Tank bag is then quite a nifty storage tool for those that have a varying usage pattern.
Secondly, Carbonado also makes the Modpac Bike Saddle Bag in 5, 10, 20 and 30 litres sizes, and they are fully waterproof with a roll-top closure for the main compartment. There is a separate rain liner as well. The best thing about these bags is that they are highly modular. They can be mounted inline on the seat, across, can be tied using bungees, and can even be hooked on to larger saddle bags to increase the amount of space available. After all this, you can spec it with a Modpad and use the saddle bag as a tank bag. You can even use it as a backpack!
Thirdly, Carbonado offers dedicated backpacks too. And, you will love them if your carry your laptop around in one. The Carbonado GT2 28L Backpack has a hard-shell and can take in laptops up to 17-inches in size. It's been designed to be comfortable on your back, has a rain liner compartment (liner is sold separately), a sunglasses compartment, and even an insulation pocket that can retain temperature for up to 4 hours! Plus, it can take in a hydration bag as well. As far as daily run-about backpacks go, this one should be at the top of your list. It's available in three colours – red, black and orange. Carbonado also makes a regular backpack in 15 and 18 litres sizes called the Carbonado X14. It too has a laptop compartment, a separate rain-liner, a 4-way adjustable harness, and multiple pockets (including one for a hydration bag) for ease-of-access.
What's more?
While there are a bunch of good motorcycling luggage options in the market, it all ultimately boils down to your requirements. Tanks bags are good for short and medium journey trips, backpacks are good for short trips, whereas, saddle bags work better for longer journeys. A hydration bag is a must for medium and long road trips, and can even be used on intra-city trips if required.