Five Tips to Store Your Motorcycle in The Off-Season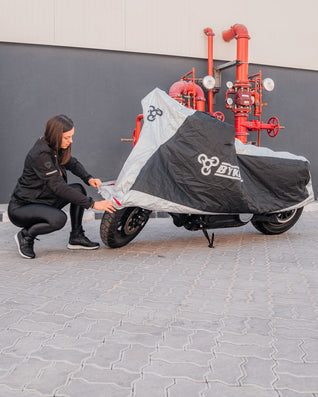 No matter how much you love riding but during peak summer, it's never a good idea to put yourself, or your motorcycle, out there in the hot scorching summer. So, what do you do? It's a good time to work away at the small niggles and store it away so it's in the best possible condition, so when the summer rolls away, you can start riding again in a stress-free manner.
Carry out basic maintenance
If you are going to be storing your motorcycle for a long amount of time, then your first priority should be cleaning it. Wash and wax the motorcycle properly. Take your time and do it right. Get into the nooks and crannies and wash away all the dirt. A good idea is to also remove the seat and clean the under-seat area. Do not wash this area directly with water as many motorcycles have their battery located here. You can however use a damp cloth to clean out the dirt. It is also recommended that you change your oil if it has been moderately or heavily used, as if this is not done, you can get carbon sedimentation in your oil pan. You should also fill fuel in the tank up to recommended level, so that moisture doesn't enter your tank.
Tighten the bolts
While it is not recommended that you play around with major bolts such as ones that connect to the frame, you can, by yourself, tighten the less important stuff. For example, the heat shield on cruiser motorcycles has a tendency to come loose. Tighten that up before the screw falls off. You can even tighten the major bolts, but only if you know their torque rating, and have the adequate tools to do tighten them. Clean and adjust your chain also, so that the next time you go riding, you don't have any whiplash in your drivetrain.
Take care of the battery
Batteries are the biggest worry if you leave a motorcycle unattended for long durations. A week or two is fine but if you store it away for more than a month, you might not have enough charge left to crank it the next time. Therefore, it is advisable to leave the battery on a trickle-charger so that it doesn't go flat. Trickle-chargers also help in maintaining battery health, as they keep the battery's charge levels in their optimum state.
Move it around
If your motorcycle is going to be parked for a long time, it's advisable that you inflate the tires to the maximum recommended pressure and also move it a few inches every now and then. This is so that it's not standing on the same tyre-spot for a long time. If a motorcycle is allowed to do that, then that particular patch of the tyre can degrade faster than the rest of it. A lot of sporty motorcycles don't have centre stands, and that's a problem if you want to do your own maintenance in the off-season. In such cases, BYKE'IT! Rear Paddock Stand can come in handy.
Store it properly
Another useful product from BYKE'IT to store your motorcycle is the Waterproof Bike Cover. This will be useful especially if you don't have an indoor area to store your motorcycle, as it will protect it from natural elements like the sun, wind and rain.