Motofever – Offering Top-Notch Quality Riding Boots from Trusted Brands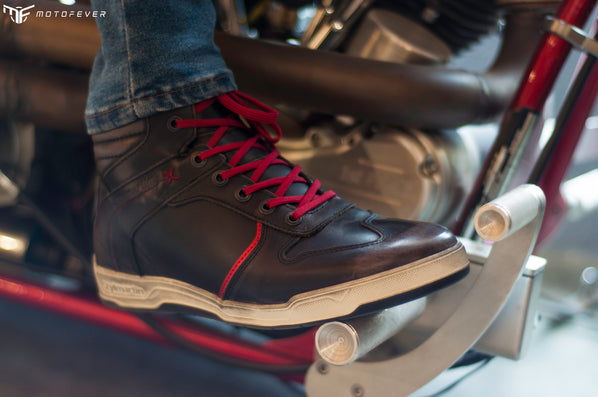 Riding your bike in style is always your dream. You have your bike beside you. But for that comfortable ride, you need some accessories to go with the look. Just like the jackets and the bike gloves, you need those scintillating ridding boots as well. And that's when our team at Motofever comes to the rescue!

We have partnered with some of the best riding boot manufacturing brands and now providing their top-notch quality items at our store. Clicking on our official website will let you come across some of the best riding boots from various brands under one umbrella.

There is no need to search multiple sites any longer! We are here to help you.
Before proceeding any further, let's just talk about some of the best riding boots you can get your hands on from our side!

Rev'it! Mission Boots:
Pricing at AED 760.00, Rev'it! Mission Boots is likely to emulate the driving shoes, but they are built for the two-wheelers. The product consists of thermoformed toecap and a heel cup to cover the areas of your foot which are prone to impact injury.
It even has a fully protective ankle cap, which helps your malleolus to a great extent.
The outer shell is made using polyester and microfiber
It has injected ankle cup and heel cup for that extra layer of protection while driving your bike
It is made using 78% of TPU and 22% of polyester

Then you have another version of Rev'it! Mission Boots from our side, which has a magnificent colour combination of black shoes with red spots. It has the same price as the previous one and will definitely provide that glam look you want with your best motorcycle riding boots from our side.

These shoes are known for their tight fit, which will snug nicely and cover your whole foot. It has ventilation with perforation on the tongue as well. There you have an extra pair of laces available in a different color if you want to hike up the style. Other than that, with these boots, you will receive a rubber gear shift pad, hook and loop ankle closure strap, reinforced side panel, and more.

Stylmartin Audax WP Boots:

Another style of sport bike boots that we have in store will be the Stylmartin Audax WP Boots. These shoes are of high quality for the sneaker-head motorcyclist. It consists of leather suede and fabric to give the appearance of the high top of old school shoes.


These shoes are known to have waterproofing features along with a stiff sole to offer extra protection for the road.
There you get two sets of laces to help you configure your shoe as per your
preference level.
You will receive an anatomic and changeable footbed for living up the style quotient to the next level.
The anti-slip rubber sole provides you with the perfect grip while on the road.

In case you you are looking for top-quality riding boots for your daily use, we at Motofever will be your first choice.