The A to Z of Motorcycle Riding Boots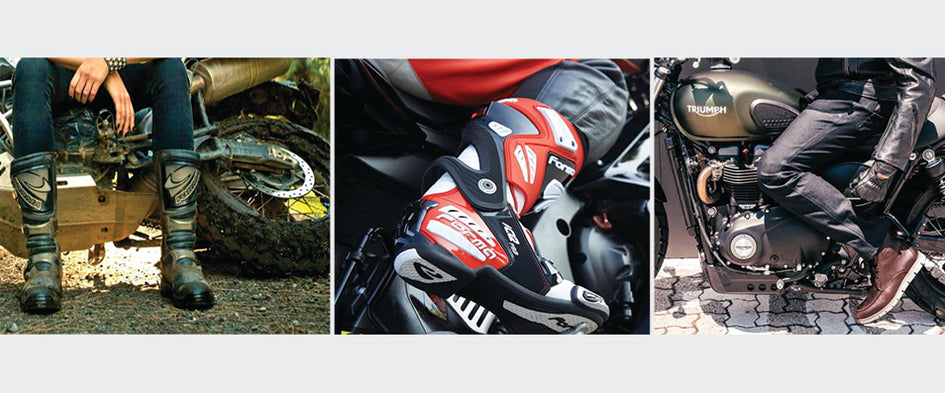 Short Cuff, Long Cuff? Water-resistant or waterproof? Take a look at different types of riding boots available.
Motorcycle riding boots are available by the dozen in the market with multiple brands and types serving up a host of options. But such a wide variety of options also means that the protection levels also differ massively, as does the ease of use. So which ones will work well for you, according to your usage? Find out below.
Short Cuff Boots: These types of boots provide the least amount of protection to any part above the ball of the foot. In the event of a crash, your ankle will be relatively safe. However, the shin will be exposed and only protected by your riding pants. Consider this type of boot for riding in city limits, where the speeds are considerably less than the highway or the twisties. These are also relatively easy to walk in and thus will not hinder movement when going about the city. The Rev'it! Mohawk and Rev'it! Rodeo short cuff boots are great buys, especially considering their balance of safety and ease of use.
Mid Cuff Boots: Compared to short cuff boots, mid cuff boots protect the lower part of your shin. The Forma Ice Pro Flow boots is an excellent example of mid cuff boots. These will also further limit the movement of your ankle and will serve you well if you are looking for added protection while riding in the city or when on the track. For added protection, they do inhibit the movement of the foot and are difficult to walk in, compared to short cuff boots. The Forma Freccia boots is another great example of mid cuff boots, which work well when riding in a sports fashion, or on the track.
Long Cuff Boots: This is the best kind of protection you can offer your foot, with the Forma Adventure boots being a prime example. Long cuff boots come up to the upper part of your shin and severely restrict the movement of the foot, other than what is required for riding a motorcycle. In the event of a crash, your foot is held firmly in place due to the restriction. This, however, does mean that they can be quite challenging to walk in and will cause severe discomfort if used for hours together, other than for riding. However, if you cruise at high speeds and love to hit the twisties, these long cuff boots will be the best kind of protection you can have. The Forma Terrain Evo boots are another excellent example of long cuff boots, better suited for off-road riding.
Adventure Boots: Now, these are similar in size to Long Cuff Boots; however, their construction is such that they are better suited to off-road riding. Adventure boots further inhibit the movement of the foot and are built to deal more with impact forces and less with abrasion. The Forma Adventure Low Boots are one example of ADV boots that do not cover the upper part of the shin, and will thus be easier to walk in. The Forma Predator 2.0, on the other hand, are full-fledged ADV boots, that will offer the most amount of protection in an off-road setting.
Water Resistant and Waterproof Boots: Most boots of all sizes and types are water-resistant. However, what this means is that they will resist water to a certain degree and will, in all probability, be able to withstand full submersion in water. Waterproof boots such as the Forma Rival Waterproof use a Gortex liner or a dry membrane to keep water out and will do so even when you put your foot down in a puddle. The Forma Air 3 Outdry boots work well if you are looking for waterproofing, without restricting ventilation.
Casual Riding Boots: These boots are generally short cuff in nature and are built with a sense of fashion in mind, such as the Forma Swift or Rev'it! Taylor. They do protect critical points such as the toe and ankle, but rigidity is compromised for a better look. While these might be a good match with your pieces of denim, casual riding boots should only be used in case of slow speed riding or when riding in city limits.