Difference Between Road and Track Riding Gear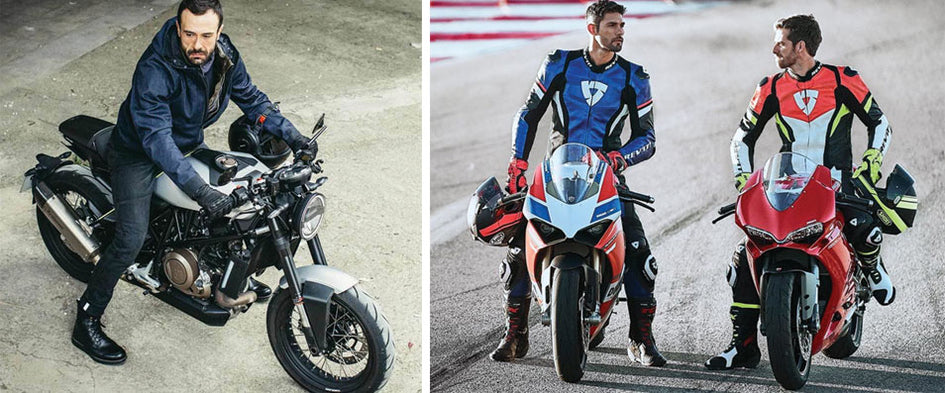 What are the challenges that manufacturers face when designing riding gear for the track or street?
Race suits are expensive and they are only built for the track. Ever wondered why people who buy one don't use it on the street? Or for that matter, why don't riding gear manufacturers make gear that works on the track and the street as well? We'll tell you why.
Posture
When you put on a race suit, your posture becomes restricted. Your shoulders will be hunched forward and your arms will feel like they are dangling in front of you. It becomes a challenge to even stand up straight. It is so because you will spend a limited time at a track, and during that time you will be committed to only the act of riding.
Street-riding gear on the other hand is designed for comfort, as much as it is for protecting the rider. You will have full range of movement when wearing street-riding gear designed for the road. This is because street riding is very different from track riding. You will be committed to the act of riding but will also need that extra range of motion to undertake multiple other activities.
Protection
Race suits are designed to offer a different kind of protection than road riding gear. Race tracks are designed so that impact crashes almost never happen. It is only when you have a high side accident that you will need impact protection, and the protection in race suits is designed with that in mind. To  minimise impact forces, some race suits nowadays come with an airbag.
They are more focused towards providing abrasion resistance as crashes on tracks can occur at really high speeds. Sliding reduces the amount of momentum a rider is carrying during a crash, but if the race suit doesn't have adequate abrasion protection, there might be serious skin injuries. 
On a road, a crash can happen anywhere and thus better impact protection is required. Crashes can happen at slow speeds also and in that case, better impact protection will ensure that you don't end up breaking any bones. You could ask that why doesn't street riding gear come with an airbag? Well, the parameters while riding on a street are such that tuning an airbag to work in any given scenario is just not possible.
Material
Track riding gear is made out of leather. While it offers good abrasion resistance, it also makes the rider feel quite hot inside. On a track this is not an issue as a riding suit will not be worn for hours at an end.
Street riding gear on the other end can be worn on hours at an end. It is therefore mostly constructed out of breathable material. There is street riding gear that is made out of leather but mostly in combination with breathable materials and construction.
It is thus imperative that you stick to street riding gear when riding on the street and use track riding gear when on the track. Sure, it will be a little expensive if you ride on the street and on the track, but that is the price one has to pay for good protection.