Different Types of Motorcycle Helmets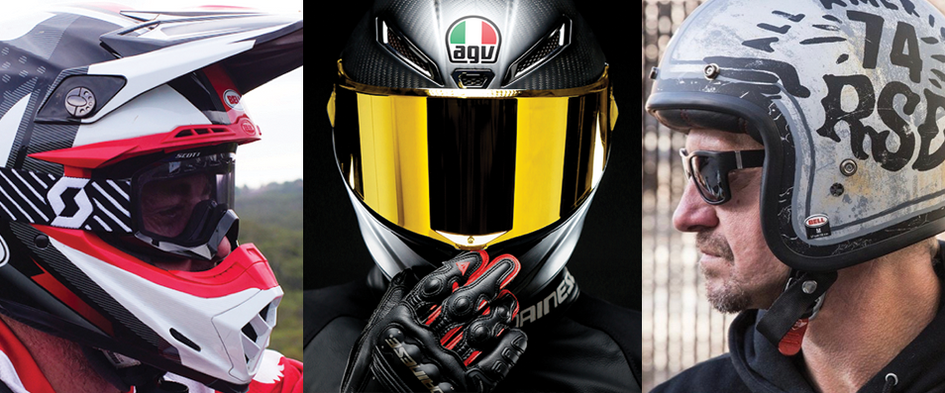 Motorcycle helmets come in all shapes and sizes but which one is the right fit for you?
Full-face Helmets
This is the pinnacle of protection when it comes to your head. A full-face helmet will protect you the most in the event of any crash and should be the ideal choice for all riders. A full-face helmet has an opening in front of the rider's eyes, where the visor is fitted. Apart from the visor and air vent toggle switches, full-face helmets don't have any other moving parts. This helps in better construction and increased strength for the shell of the helmet, which in turn better protects a rider's head in the event of a crash. Bell's Qualifier series and the AGV K3 SV series are great examples of full-face helmets that will keep the rider comfortable during a ride and protected during a crash. You can also opt for the top of the line AGV Pista GP R series if you want nothing but the best.
Open-face Helmets
These helmets come without any construction on the front of the helmet, from the rider's eyes to their chin. A shell protects the top and back parts of your head. Open-face helmets are great for use in environments when the speeds are not high. So when riding in city limits or just cruising at a sedate pace, open-face helmets can liberate a bit of real estate on a rider's face, while still protecting the head from three other directions. The Bell Custom 500 series is a line of open-face helmets that feature a retro design. The Rogue series from Bell features a more modern design. Open-face helmets can be paired with a pair of goggles to shield the eyes when riding.
Modular Helmets
Okay so what is a compromise between full-face and open-face helmets. Enter, modular helmets. In this case, the entire front section of the helmet is supported by a hinge and can be lifted like a visor. So, when riding at high speeds, the front section can be pulled down. And at slow speeds or when they are stopped, the rider can lift the front section to get some air. AGV has a Sports Modular series and Bell offers the SRT Modular series for those looking for a modular helmet. There is also the Bell Revolver EVO model, which looks stunning in matte colours. While modular helmets do offer great convenience, they do not provide protection of the same level as a full-face helmet.
Off-road Helmets
Then there is the case of which helmet to use when going off-road? Well, off-road helmets have a different kind of construction to allow for better ventilation off-road. Why, you ask? Well, riders need to move about a lot on their off-road motorcycles, which requires energy and more oxygen helps with that. Off-road helmets also have a visor at the top, instead of one in front of your eyes. This helps in shielding the rider's eyes from the sun and even from debris that might be kicked up from the motorcycle in front. Bell offers the MX9 series and the Moto 9 series for those looking to pick up an off-road helmet. Off-road motorcycle helmets can also be paired with a pair of motorcycle goggles for increased protection for the eyes.
AGV helmets, AGV K3 SV helmets, AGV Sports Modular helmets, Bell Custom 500 helmets series, bell helmets, Bell Moto 9 helmets, Bell MX9 helmets, Bell Qualifier helmets, Bell Revolver EVO helmets, Full-face helmets, Modular helmets, motorcycle goggles, Motorcycle helmets, Off-road helmets, Open-face helmets, Types of Motorcycle Helmets