Essential Accessories for Motorcyclists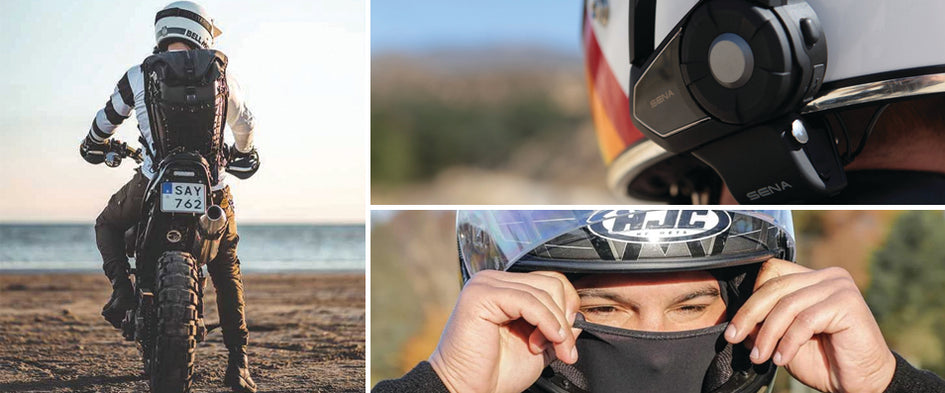 If you thought that accessories are only meant to spruce up your look, think again. If you are a regular rider or someone who moves about mostly on two wheels, you can definitely make use of some of these accessories to further your riding experience.
Point 65 Backpacks
Cargo space is always a concern when you are on a motorcycle. That's why there are specific backpacks that let you carry your things while riding a motorcycle. The Point 65 Boblbee GTX is one such backpack that's truly unique, as it provides rider safety as well as storage solution for belongings. This hard-shell backpack has the world's highest safety ratings amongst spine protectors, with up to 93% impact reduction. Its high-impact ABS shell provides excellent protection to belongings stored inside. And you won't find a more comfortable backpack that this, with a lumber curve that distributed the weight of the backpack, reducing strain on the shoulders and neck.
What's more, you can add extra bits such as the Point 65 Boblbee Backpack Side Winders, the Point 65 Boblbee Backpack Phone Pocket or the Point 65 Boblbee Backpack Velcro Belt to customize your experience. This not only helps you in packing in more things when required, but you can also shed that weight just as easily when you only need one backpack.
Point 65 Helmet Cargo Net
A helmet is super important when you are riding a motorcycle but when you are off the motorcycle, it only gets in the way. You have to be super careful about not damaging the shell or the visor. Point 65 has a simple solution for this, a helmet cargo net. It's a simple cargo net that straps on to your Point 65 backpack, and keeps your helmet safely secured to it. That leaves you free to do whatever it is you want to, without having to worry about leaving your helmet on the bike or in a random place.
Oxford Balaclava
Having a layer between your helmet and skin is quite important. It not only ensures a snug fit, but also keeps your sweat from being absorbed by the helmet liner. So essentially, a balaclava comes in quite handy and the Oxford balaclava is a one-size-fits-all piece of kit that you can wear under any helmet. What's more, it will even absorb a lot of the moisture that you breathe out, reducing any chances of fogging on your visor. A balaclava will essentially require you to wash your helmet liner less often, prolonging its life.
Oxford Comfy
If you want the benefits of a balaclava but don't really want something covering the front of your face, then an Oxford Comfy is what you should be looking at. It can be worn over your head to create a barrier between your hair and the helmet, or you can wear it as a bandana to only cover your nose. It's a multi-purpose garment that can even be worn off the motorcycle.
Sena Bluetooth
GPS instructions, important calls or even communication with your fellow riders. It can be a little hard to do all of it when you are on a motorcycle. However, there is an answer and it's called a Sena Bluetooth headset. A device that straps on to the outside of your helmet and pairs up with your smartphone. It also requires you to embed a speaker unit inside the helmet, so that you can easily listen to the audio. Models such as the Sena 30K Bluetooth Headset with Mesh intercom also allow you to talk to your riding buddies while you are all on the road.