How to prep for a Winter Ride or a Camping Trip?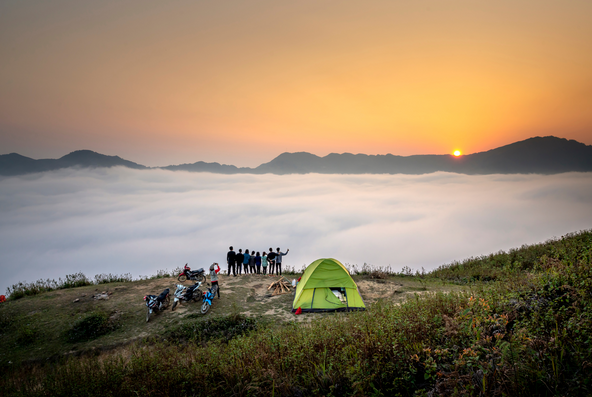 Riding in the winters can be a lot of fun as landscape turns a shade of white that makes everything scenic, and there are a lot less people around so you have the views a lot more to yourself. Plus, the company of your motorcycle is the cherry on the top of that sundae. So, if you are thinking of venturing out this winter with just your motorcycle for company, here are a few things you should keep in mind.
Get the right riding gear
It's important to pick the right motorcycle gear when going for a winter ride. You should pick gear that shields you against wind chill, low temperatures and rain and you will be fine. The Rev'it! Sand 4 riding jacket ticks all these boxes and is a great option for all kinds of winter motorcycle rides. Forma's Adventure boots is another great option and if you want to keep things toasty inside your helmet, Byke'it's Insulate balaclava should be at the top of your list. 
Get your camping gear in place
If you are going to be calling Mother Earth your home for a few days, it's important you pack the essentials. A tent, sleeping bag, stove and canned food should be the minimum you carry. Also keep a change of warm clothes, thermals, etc. according to the temperatures you will encounter on your trip. Keep a couple of portable chargers as well as cold weather conditions drop the amount of juice you get from batteries.
Stock up on the right accessories
Make sure your motorcycle is mechanically fit enough to take on winter weather conditions. Alternatively, pack in a tyre inflator as well so that you can reduce air in low traction scenarios and then fill it back up. A motorcycle cover for parking the motorcycle at night would also help in long-term durability of the parts, and if you are in regions where it might snow, you won't have to remove snow of your motorcycle in the morning.
Know what roads will be open
You should also get your navigation work done before you begin the ride. Chalk out a basic route, and know what roads could be open or closed in the winter. There is no worse feeling than getting lost in bad weather conditions, or not being able to complete your journey just because of a particular road being closed to due snow or other reasons.
Also Read: Tips on Riding your Motorcycle in the Dark
Check rubber hoses and lube required parts
Rubber hoses can crack in the winter if they are brittle. Therefore, replace any rubber hoses that have seen a lot of miles and are three years or older. Your authorised service station manager can also help you out with identifying rubber hoses that might be about to fail. Also, lubricating the chain and other required parts in cold temperatures can be a tough job, so lubricate them before you leave for the trip in the comfort of your home, even if that means doing it early in your regular maintenance cycle.