Know thy Helmet - Rossi Winter Test 2017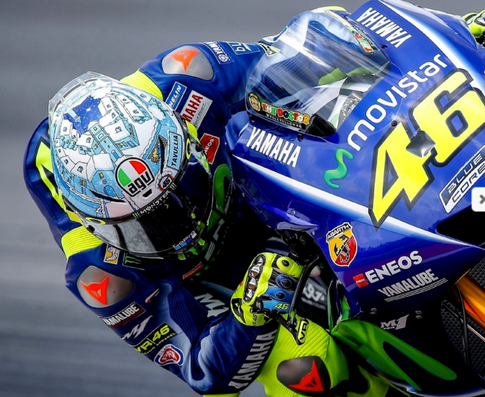 It's great when a Moto GP rider turns up to a special race in a new helmet design, but sometimes, riders also turn up to tests in a new helmet design. This was true for Valentino Rossi when he turned up to the Winter Test in 2017 with a new helmet design. The winter test was at Sepang in Malaysia and the helmet worn by VR46 features a snow-globe design, like all the other Winter Tests before that. However, on this particular occasion, the centre-stage design was not only of a snow-globe, but his home town of Tavullia as well.
The helmet had many iconic views from Valentino Rossi's hometown, with the church taking centre stage. This is famously the church that rung its bells whenever Rossi won a race. Other buildings such as houses from Tavullia can also be seen painted on the helmet.  A wooden base has also been painted at the bottom, upon with the snow-globe rests. Overall, it's a beautiful homage to Tavullia. Valentino Rossi has a strong following in his home and all over Italy too, which only makes this helmet design a lot more special.
Originally, AGV imprinted this design on the Pista GP R helmet that Rossi was used to wearing for his Moto GP races. It is the best helmet design that AGV had to offer Valentino Rossi at the time. Now however, if you want to sport this snow-globe like design that Rossi used to wear at one point of time, you should check out the AGV K1 available on our website. While it might not look exactly like the Pista GP R helmet that Rossi had worn between 30th January and 1st February at Sepang, a lot of the major elements in design have been carried over.
Parts of the AGV K1 were developed in the wind tunned and have been modelled on the Pista GP R worn by Valentino Rossi. It cuts through air quite easily and has a central air intake system that makes it quite ventilated. It comes in 2 sizes but the EPS layer can be had in four sizes, making it a snug fit on a rider's head. It weighs approximately 1.5kgs and should not be a bother for long highway rides as well.
Also Read: Know Thy Helmet - Tartaruga (Mugello 2013)