Know Thy Helmet - Tartaruga (Mugello 2013)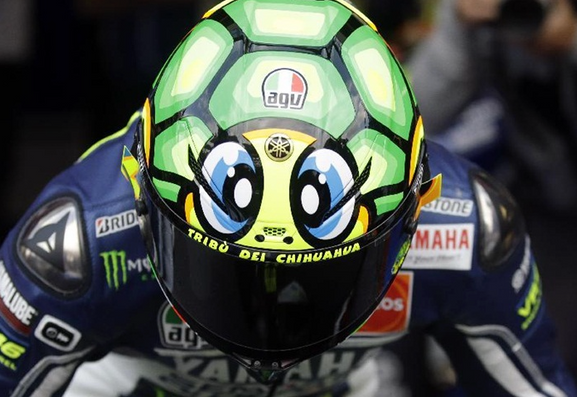 When you talk about helmets worn by racing legends, Valentino Rossi always pops up first in your head. This time around, we are going to talk about the Tartaruga or the Turtle helmet, that Rossi wore at Mugello in 2013. Often, a helmet design becomes famous for when a racer has a great race, but the Tartaruga helmet that Rossi wore at the Mugello in 2013 has a whole different reason for being so burned into the memory of Moto GP fans.

To give you some context, Mugello had been the fortress of Valentino Rossi for many years. Seven to be precise, from 2002 to 2008. The Doctor had achieved some emphatic victories in all these years, but as 2009 rolled around, a gentleman called Casey Stoner was there to ruin Valentino Rossi's Mugello party! He took victory for Ducati, and the following year, in 2010, Rossi broke his leg in a warm up session, ruling him out for the weekend. In 2011, he switched to Ducati and that year like the one that came after it can only be called the dark period of Rossi's career. Not only was he not able to win at Mugello in those years, but his overall season was quite poor as well.

In 2013, Rossi moved backed to Yamaha. This is where the story of the Tartaruga helmet begins. Historically, Mugello is always special to Rossi and he always unveils a new helmet design. In 2013, Rossi unveiled the 'Turtle' design that we see on the Tartaruga helmet, with the eyes of a cartoon-ish turtle staring forward, just above the visor. There are also stick figures at the base of the helmet, in which Rossi can be seen trying to catch up to other competitive riders. This is Rossi's way of accepting that there are other faster riders out there and he has some catching up to do.

The race in itself was a bit of a bummer as Rossi, who started seventh, crashed after a some what good start. It was Alvaro Bautista who collided with him in the third corner of the race, sending  both riders in for an early shower. Jorge Lorenzo went on to win the race, where as Dani Pedrosa came in second, and Cal Crutchlow took the third and final step of the podium.
Also Read: Know Thy Helmet – Valentino Rossi Shark Helmet (Misano 2015)

Despite Rossi's poor race, the Tatraruga helmet is adored by Rossi fans and has a lot of history behind it. If you want the same helmet design for yourself, you should check out the
AGV K3 SV : Tartaruga

helmet
. It is a replica of Rossi's original design and one good enough to take you back to the time when Rossi was in the prime of his career!