Motorcycle Gear That Protects You On The Bike, And Looks Great Off It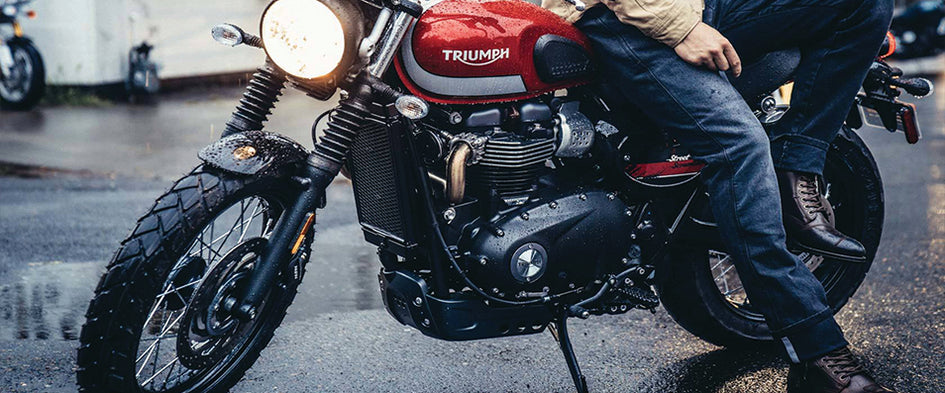 Compromising on the fashion and style quotient while choosing your protective riding gear? Well, not anymore!
For long motorcycle gear brands have focused on delivering on their primary function of protection while riding. But what about when you step off your bike? Do you feel the need to change out of your riding gear into something more casual and appropriate for hanging with your buddies or heading straight to work? Well, here are some riding gear options that are functional yet fashionable, and will save you the trouble.
Rev'it! Overshirt Jackets: The Crosby, Bison, and Tracer 2 are all overshirt jackets by Rev'it! that will have the fashion world fooled. These are riding jackets designed to mimic the looks of a casual shirt, but come equipped with ultra-thin protectors at the shoulders and elbows along with a provision for a back protector. While the setup is not ideal for blasting down the highway or corner-carving in the canyons, it offers adequate protection at city speeds.
Rev'it! Seattle TF Jeans: If you like to go around in denims, Rev'it! has you covered with the Seattle TF Jeans. They look like any other denims in your wardrobe; however, they also offer protection as they come with knee protectors as standard and provision for hip protectors too. What's more, wearing them in the summer isn't a problem as they are made of fabric that wicks moisture away, keeping you feeling and looking cool.
Rev'it! Alpha RF Trousers: If jeans are too casual for you and you'd like something a little more classy, Rev'it! has you covered with the Alpha RF riding trousers. Just like jeans, these trousers are made of fabric that wicks moisture away. There are also knee protectors and compartments for hip protectors to help keep you safe in the event of a fall.
Rev'it! Taylor Boots: These are perfect for wearing while on and off the bike, with a nice casual vibe on the outside and protection for the toe, heel, and ankle on the inside. The Rev'it! Taylor boots even have reflective material at the heel to improve visibility. The only thing you will have to be careful about is puddles as these boots are not water-resistant or waterproof.
Rev'it! Mohawk 2 Boots: The Mohawk 2 boots sit somewhere in between a short-cuff and mid-cuff boot. They protect the toe and heel and additionally are water-repellent too. The surface behind the heel is also reflective, thus increasing your active safety while riding. These can be had in multiple color options as well.
Forma Hyper Boots: Talk about the protection that looks good. The Forma Hyper Boots come in all-black, and feature CE levels of protection, added ankle protection and are fully waterproof. The bonus here is that despite packing in so much, they are easy on the wallet too.
Forma Swift Flow Boots: These might look like they are made out of the same material that sneakers are made of, but don't let the looks fool you. The Forma Swift Flow Boots feature CE level of protection with a reinforced heel and are fully waterproof. Also, their sneaker-like design will gel well with casual everyday attire.
Alpha RF riding trousers, Forma Hyper Boots, Forma Swift Flow Boots, hip protectors, knee protectors, motofever, motorcycle accessories, Motorcycle Gear, Motorcycle helmets, Motorcycle riding gear, protective riding gear, Rev'it! Alpha RF Trousers, Rev'it! Mohawk 2 Boots, Rev'it! Overshirt Jackets, Rev'it! Seattle TF Jeans, Riding jackets, riding jeans