Touring Essentials: 5 Challenges And How To Overcome Them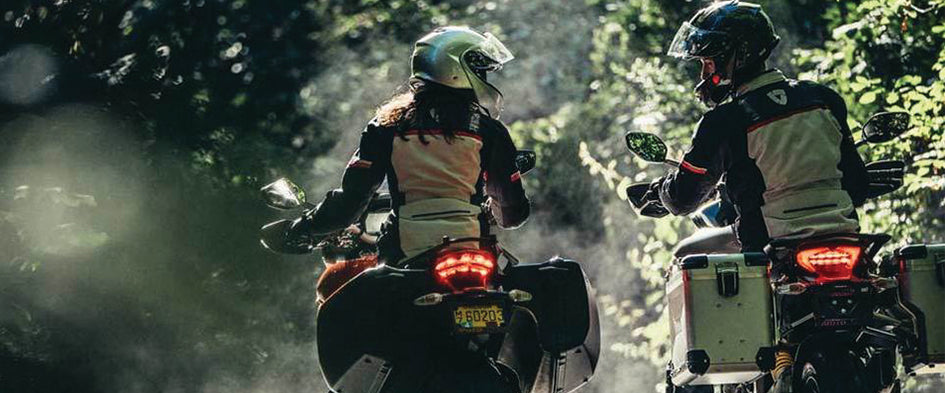 Touring on a motorcycle can sometimes become a drag due to the challenges involved. Here are some of the most commonly faced challenges by riders and how you can overcome them.
If there is one thing in common that most motorcycle riders have, it is their love for touring. Hitting the road on your two wheels and seeing new places has an allure that is hard to put down in words. However, two-wheel touring also has its set of challenges. Let's address some of those and tell you how to overcome them.
Staying Connected
Staying connected with your family and friends or even the people you are riding with can become a challenge while touring. After all, you are tightly packed inside your riding gear and using a smartphone with your helmet on, even when you've stopped, is not easy, and also dangerous if you do so while riding. The solution to this is Bluetooth headsets. Sena makes some great Bluetooth headsets that not only keep you connected to your smartphone, but also other riders in your group using the same Bluetooth headset. The Sena 30K Bluetooth Headset with Mesh Intercom does both. For those of you on a budget, look up the Sena 10S Bluetooth Headset. It does most things the more expensive Sena models does, but you do sacrifice communication range.
Storage
Making a decision between what you can and cannot take on a motorcycle riding tour is very difficult. Most of us have had to do this at some point and leaving behind essentials you might need on a trip is something no one likes. The solution to this is tank bags and saddlebags. If you are an all-out tourer, you can even get a set of panniers installed on your motorcycle. Saddlebags and panniers do mean that you will not be able to seat a pillion rider, but if you do ride with a pillion, go for a tank bag.
Navigation
Smartphones are great and while many riders are of the opinion that they can be a distraction on a motorcycle, they are great for navigation when you don't know the route. The Quad Lock Handlebar Mount and Quad Lock Case are great accessories when riding in an unknown region. The design of these two accessories are non- intrusive and the Quad Lock Cases are available for a lot of popular smartphones such as the Samsung Galaxy S8, S8+, S9 and S9+. if you are an Apple user, Quad Lock makes cases for the iPhone 7, 7+,8 and 8+ as well.
Staying cool
Touring requires a rider to spend quite some time in the saddle. This can lead to a lot of fatigue building up and one of the reasons for that is high temperature build up. A cooling vest is the ideal solution for that. Rev'it! makes a great cooling vest that can be worn underneath your riding jacket. The Rev'it! Cooling Vest Liquid is designed to regulate body temperature with the help of the liquid inside the vest. This will be a god-send if you tour in areas where the average temperature is high.
Staying Hydrated
Water is the most essential requirement of the human body, after oxygen. Spending long hours in the saddle can lead to a rider getting dehydrated and the easiest way to avoid it is by using a hydro pack. These are water bladders that can store up to a couple of litres of water. Many of the hydro packs are so designed that they can fit inside a compartment of your riding jacket or your backpack. Plus, you do not need to stop as a small pipe, that stays near your shoulder, can be used to drink water while on the go.
Bad riding habits, bell helmets, Helmet Accessories, helmets, jackets and gloves, motofever, motorcycle accessories, Motorcycle riders, motorcycle riding, Motorcycle riding gear, motorcycle Riding jackets, Off-road helmets, off-road riding gear, protective riding gear, Rev'it! Mesh jackets, Rev'it! Seesoft Back Protector, riders mistake, riding boots, riding gear, riding gloves, Riding jackets, riding jeans, Riding Pants, Sena 10C Bluetooth Headset & Camera, Sena 20S Evo Bluetooth Headset, Sena 30K Bluetooth Headset, Sena headsets for helmets, Types of Motorcycle Helmets