Know Thy Helmet: Rossi Soleluna 2021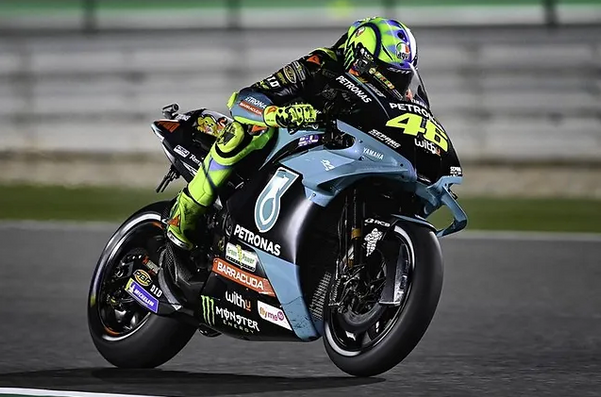 Valentino Rossi is a name synonymous with MotoGP - there can be no denying that. We all know that Valentino Rossi loves his helmet designs which in a way tell the story of his MotoGP career. Today, we are talking about the Rossi Soleluna 2021, and for those of you who are VR46 fans, we suggest you get the tissues ready as this is
no ordinary helmet design
.
The Soleluna design has always been at the forefront of Rossi's helmet design, depicting the sun and the moon, but over the years, his designs have become more and simple, and less edgy, symbolising how he has matured over the years as a MotorGP rider and as a human as well. The 2021 Soleluna design however quite special because it was unveiled after it was decided that he would be parting ways with the factory Yamaha team, and would instead be shifting to the satellite Yamaha Petronas team. While he would still receive factory support in terms of machinery, Rossi and the Yamaha factory team have been one of the greatest success stories of the 21st century and their parting would even make the most resilient of people shed a tear.
The design of the 2021 Soleluna helmet therefore was a homage to his time spent with Yamaha, with his iconic Vale Yellow colour merging with that of the blue of Yamaha. It was also representing the fact that Rossi was moving to a new team with the dawn to dusk and back theme. What made this helmet design even more special is that during the course of the 2021 season, Rossi actually announced his retirement, which though expected, still left most in shock.
Now if you are someone who resonates with the story of Rossi, and would like to have the same helmet as him before he hung up his racing boots, well you can. AGV makes the Pista GP RR Soleluna 2021 Helmet, which is quite literally a replica of the helmet colours that Rossi used in his final season. The helmet in itself is quite special as it is made of a one hundred percent carbon fibre shell, and is homologated to the strictest FIM standards, which means it can be used to race on track!
Also Read: Know thy Helmet - Rossi Winter Test 2017