Motorcycles and Their Types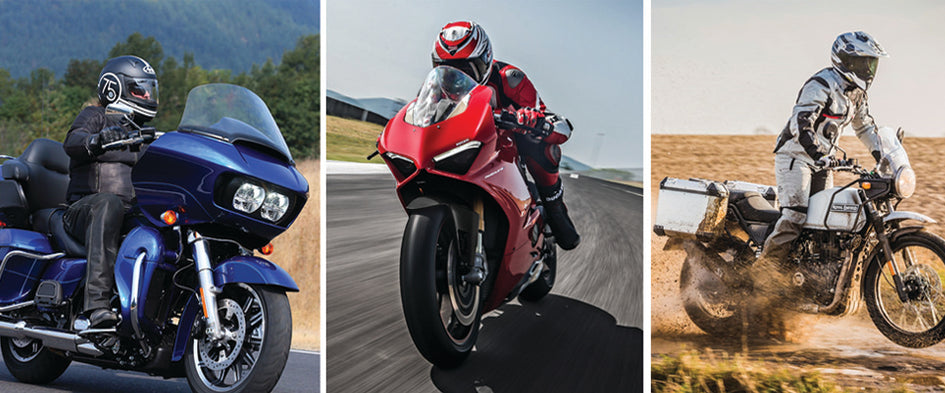 In the world of motorcycling, there exist different kinds of machines that appeal to different kinds of riders. Take a look below to find out the most popular types of motorcycles on planet earth.

There are many types of motorcycles, all of them fulfilling one purpose or the other. Some allow you to sit back, relax and cruise, while others are meant to send you into attack mode, so that you can ride at the limit. Then there are those that offer a mix of two and if riding on tarmac is too mainstream for you, there are motorcycles that will allow you to go off the beaten path. Let's take a look at which is which, and what separates one from the other.
Cruisers
A cruiser is a motorcycle that allows for a relaxed riding position. You can sit back nice and easy in the saddle and enjoy the scenery as it passes you by. You will find that such motorcycles are generally available with bigger displacement engines, although there is no hard and fast rule about it. A couple of small displacement cruiser motorcycles do exist in the market, but you will starved of choices if you go looking for them. A cruiser motorcycle is great for touring purposes or even for a joy-ride on the weekends, but their relatively big size means that you won't fancy riding one around in an urban environment on a regular basis.
Sport Bikes
These are literally the opposite of cruiser motorcycles. They are built with only one thing in mind and that is performance. Their hallmark is a fairing that makes the motorcycle more aerodynamic. The riding position is committed so you will mostly find yourself leaning over their fuel tank. Most sport bikes come with bigger displacement engines, although choices in the lower end of the segment are more than you would find for cruiser motorcycles. So much so that some really good motorcycles exist in this segment, below the 300cc mark. Riding them around on an everyday basis can get a bit taxing but show them a set of twisties or head out to a track day and these motorcycles will leave you with a big grin your face.
 Read Also: 5 Most Powerful Electric Motorcycles
Naked/Streetfighters
The word naked symbolises the fact that these motorcycles don't get any fairings. The term streetfighter signifies that these motorcycles are built to be ridden on the street and they provide you the best experience in an urban environment. Most motorcycles you will see on the street are nakeds and they offer a compromise between the riding position of a cruiser and a sport bike. These motorcycles are available with different displacement engines, so right from a 150cc, all the way up to the litre-class, there is a whole range of motorcycles to choose from.
Dirt Bikes
This is altogether a different genre of motorcycles because while the other three are built to be ridden on tarmac, dirt bikes, as the name suggests, don't have the word tarmac in their dictionary. Their basic traits include high ground clearance and long travel suspension. Dirt bikes also split into multiple types, such as motocross and enduro. Motocross bikes are extremely light and don't come with equipment such as lights, a side stand and other things that make a bike road-legal. Enduro bikes follow the mantra of high ground clearance and long travel suspension, but they do get lights, a side-stand, a road-legal exhaust as they are also meant to be ridden on tarmac.
Everything Else
All in all, motorcycles are of many types and the categories that we have listed above are broad guidelines to differentiate them. There are motorcycles, especially ones that are custom-built, that do not conform to any one category, but rather take a bit from here, a bit from there, and end up being stand-alone motorcycles or creating a category of their own.
Read Also: Top 5 Most Powerful Production Motorcycles